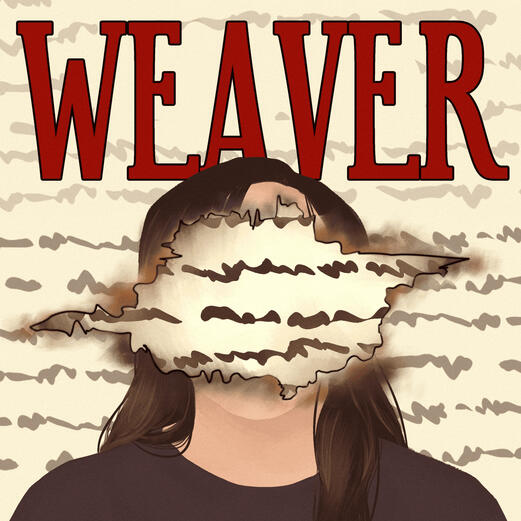 ---
Lorna has been in this house for a long time. Maybe forever. She remembers nothing from before, only a name that she's turned into a god, into her own private religion. But when two newcomers arrive, Lorna must break free from her desolate state to make herself known to them.

Weaver is a new audio drama about loneliness, understanding, and the threads that connect them, available wherever you get your podcasts.
About our team
NEWTON SWEENEY
Newton "Newt" Sweeney is a long-time lover of all things ghostly. They are the writer, producer, and director of Weaver and provide the voice of Lorna. They are currently working towards a Bachelor of Fine Arts degree in Acting from West Virginia University, and they are well-known for their love of clowns. They can be contacted by screaming agonies into the night air, or by email at [email protected]
MICHAEL MARTIN
Michael Martin, the voice of Goose, is a 19 year old college student from West Virginia. Michael has an interest in Tabletop RPGs, horror movies, and baking, and has been an amateur theatre actor since high school.
RHODODENRON SYKES
Rhododendron Sabel Sykes, the voice of Evelyn, is a student at Temple University with the aspiration to graduate with an English degree. They began listening to podcasts at a young age, and decided that if at all possible they would like to pursue a small voice acting career. In their free time they enjoy gardening, making art, writing, and creating wild makeup looks.
NEWTON SCHOTTELKOTTE
Newton "Newt" Schottelkotte is the sound designer, production consultant, and voice of Lillian. A Commercial Songwriting and Film student in the Nashville area, Newt is the creator of the audio dramas Inkwyrm and Where the Stars Fell. You can find them feeding their fancy notebook obsession at newtschottelkotte.carrd.co.
VEDA WHEELER
Veda "V" Wheeler is the script editor of Weaver. She always finds herself searching for the beauty of a well-written story, no matter the form. Like Newt Sweeney, Veda is currently working to get her Bachelor of Fine Arts degree in Acting from West Virginia University. If she's not too busy sleeping the day away, you can reach her by email at [email protected]
JAMES SMITH
James is a 22 year old ancient historian and artist. He is currently working towards a Master of Arts degree in Classics, and some form of coherent representation of his original characters. His info can be found at bellumcatilina.caard.co.
RHÉA MING
Rhéa Ming is an eighteen year old violist from Martinsburg, West Virginia. She has been playing the viola for over a decade, and is currently studying Music Performance at West Virginia University. Ming has previously performed at various concerts, festivals, and performance venues. In 2018, she along with the High School Honors Performance Series group played at Carnegie Hall, and in 2019 attended the National Orchestra Conference in Albuquerque, New Mexico with her high school's chamber orchestra. When not practicing her craft, Ming enjoys listening to music, baking, and spending quality time with family. She can be contacted via email at [email protected], or through Instagram @rcming18.
Episodes
Chapter 10: "Point of No Return"
The door is opened. The fog begins to lift.
Listen
Transcript
Chapter 9: "A Girl Made of Negative Space"
Lorna waits. Goose fills her in. A breaking point is reached.
Listen
Transcript
Chapter 8: "Red Eyes in the Dark"
Lorna tells a story.
Listen
Transcript
Chapter 7: "A Visitor"
Evelyn calls an old friend.
Listen
Transcript
Chapter 6: "Death, Reversed"
Goose attempts to contact Lorna.
Listen
Transcript
Chapter 5: "Silence"
The calm after the storm.
Listen
Transcript
Chapter 4: "An Olive Branch"
The house is cleansed and discoveries made.
Listen
Transcript
Chapter 3: "Mourning"
A broken mug sparks conversation and conflict.
Listen
Transcript
Chapter 2: "Watch"
Lorna observes her cohabitants.
Listen
Transcript
Chapter 1: "Dust"
In which a prayer is said, a tale is told, and newcomers arrive.
Listen
Transcript
Chapter 0: "Haunted"
This is only a test of faith.
Listen
Transcript
PRESS KIT
Our press kit is available here.